Happy birthday, Prince Michael Jackson!
Michael Jackson's oldest son turns 18 years old today. The B-Day boy took to Twitter last night to celebrate his milestone birthday with a heartfelt tribute to his late father and his famous family.
"Before I turn 18 tomorrow I really want to thank a few ppl and first is obviously my dad he was and is an incredible human being not only did he give me the gift of live he gave me an incredible opportunity to make something of myself," Jackson wrote.
"Secondly my cousin/guardian TJ, he has made so many sacrifices to help me along and he's been there when I needed him and helped shape who I am," he added.
Jackson ended his sweet birthday message with a mention of his grandmother Katherine Jackson. "Finally my grandmother/guardian she has been through so much and is such a strong woman to have to live so much she's an inspiration to keep going no matter what and have always been there for us and I love then all," he concluded.
Hope you have a great birthday, Prince!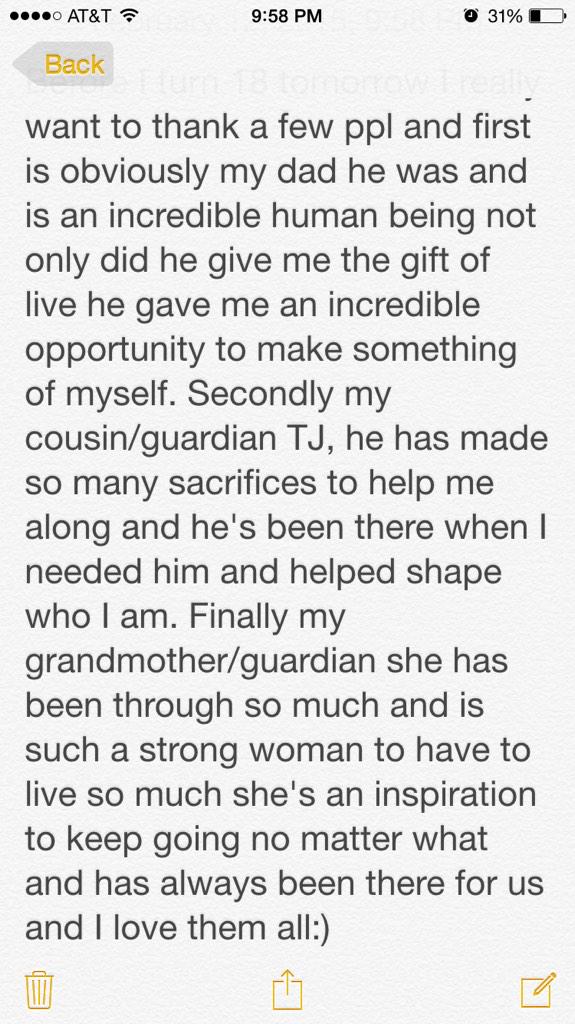 "Antes de cumplir mañana mi 18º cumpleaños, quiero dar las gracias a algunas personas y el primero es obviamente mi padre. Él fue y es un ser humano increíble no sólo por lo que me dió el don de la vida sino porque me ofreció la oportunidad de llegar a ser alguien. En segundo lugar mi primo/tutor TJ, él ha hecho muchos sacrificios para ayudarme y ha estado ahí cuando lo he necesitado y me a ayudado a ser como soy. Finalmente mi abuela/tutora, ella ha pasado por mucho y es una mujer muy fuerte que ha vivido muchas cosas, es una inspiración para seguir adelante sin importar lo que ocurra y siempre ha estado ahí para nosotros. Los quiero a todos.